| | | | |
| --- | --- | --- | --- |
| | National Museum of History of Moldova | | |


Click here for a Virtual Tour of the Museum
ISSN 1857-0240
E-ISSN 2537-6330

Adelaida Chiroșca

Lockets with the image of the Holy Virgin from the collection of the National Museum of Archaeology and History of Moldova

Tyragetia, serie nouă, vol. I [XVI], nr. 2, Istorie. Muzeologie Chișinău, 2007
A rich collection of church provenance is stored in the funds of the National Museum of Archaeology and History of Moldova. The most remarkable are medals, medallions and tokens with images of saints, the holy virgin and great miracle workers. Medals with reproduction of icons are of special significance. It is worth mentioning Pochaevskaya, Oseryanskaya and Novo-Afonskaya icons of the Blessed Virgin, and also such icons as the Our Lady of Sorrows, Our Lady of Perpetual Help and finally the Blessed Virgin with the Prelates.

On the reverse sides of these medals saints and martyrs widely known for their piety and faith are depicted. In this regard it is worth mentioning the sacred images of St. Nicholas the Wonder maker, Saint Martyr Panteleimon, St. Job, St. Anthony and St. Theodosius.

Most of these medals were purchased from such famous collectors as V. Zaborovskiy, I. Zeidman, G. Monastirskiy, etc. Graphic and iconographic images on these medals are harmoniously combined and supplement each other. These medals are valuable and inspiring sources for the students of Christian history.




#Exhibit of the Month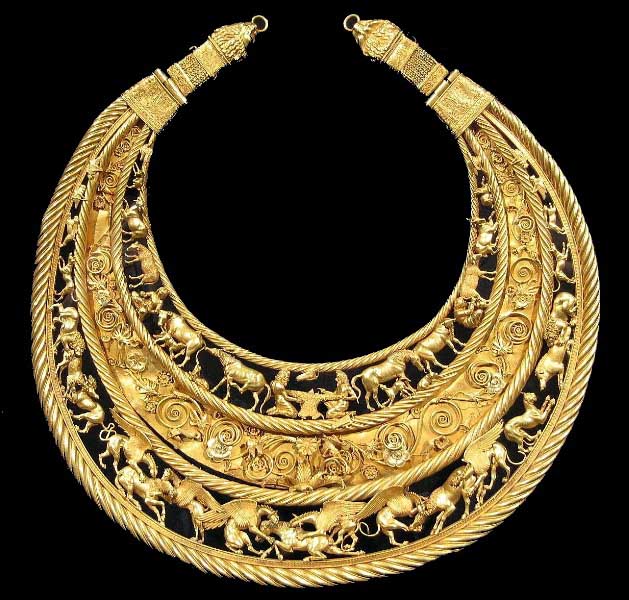 The pectoral from Tolstaya Mogila is considered the main archaeological treasure of Ukraine (it is depicted, for example, on the logo of the Institute of Archeology of the National Academy of Sciences of Ukraine). This unique artifact of 958 gold, weighing 1140 g, was discovered as a result of excavations of the Scythian burial mound of Tolstaya Mogila (Tovsta Mohyla) on June 21, 1971 near the modern city of Pokrov (then Ordzhonikidze) in the Dnepropetrovsk region. Following the excavations carried out by Boris Mozolevsky and Yevgeny Chernenko, it turned out that a mound with a height of 8.6 m and a diameter of 70 m was filled over the representatives of the Scythian elite around 350s-340s BC. The Tolstaya Mogila mound was the family tomb of the Scythian aristocracy, in which а male burial of а "king" and then, after a short period, of a "queen" with a child was performed. Then, some time after the funeral, the burial of the "king" was robbed, but the robbers, fortunately, did not notice jewelry (a sword in a scabbard, a whip) lying in the dromos at the entrance to the tomb, including the pectoral...
Read More >>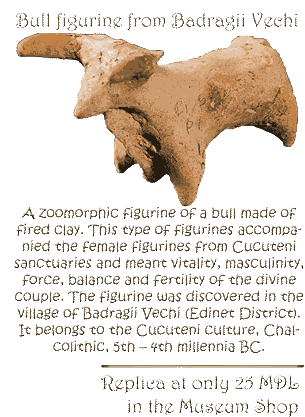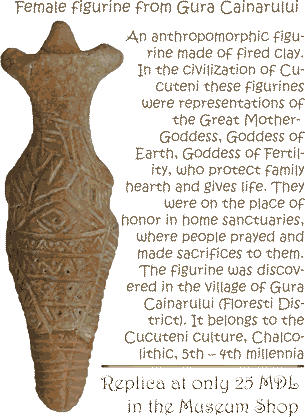 __________________________________________
©2006-2021
National Museum of History of Moldova
31 August 1989 St., 121 A, MD 2012, Chisinau, Republic of Moldova
Phones:

Secretariat:
+373 (22) 24-43-25
Department of Public Relations and Museum Education:
+373 (22) 24-04-26
Fax:
+373 (22) 24-43-69
E-mail:
office@nationalmuseum.md
Technical Support:
info@nationalmuseum.md

Web site administration and maintenance:
Andrei EMILCIUC