| | | | |
| --- | --- | --- | --- |
| | National Museum of History of Moldova | | |


Click here for a Virtual Tour of the Museum
ISSN 1857-0240
E-ISSN 2537-6330

Andrei Emilciuc

The role of land transport in Bessarabian commerce (1812-1853)

Tyragetia, serie nouă, vol. I [XVI], nr. 2, Istorie. Muzeologie Chișinău, 2007
The article analyses Bessarabian logistics infrastructure and its influence on the commerce of the region and discusses different aspects of the problem. First of all, aspects of evolution of the main commercial roads between 1812 and 1853 are studied. The advantages and disadvantages of carting, the main means of transportation in this period are discussed. An important problem that we tried to elucidate is the administration of the Dniester and Prut crossings, and also the question of concessions. Problems of construction of railways in Bessarabia, costs of transportation, social aspects of carting, etc., are addressed. The conclusions are as follows:

Firstly, the process of application for concessions of the Prut and Dniester crossings were much bureaucratized – the procedure could take up to a year, and the decisions could be made by the General Governor of Novorossia or the Minister of Communications. The most important crossings were at Bender, Akkerman and Maiaki. Their importance was due to the increasing role of Odessa seaport for Bessarabian commerce. Secondly, the costs of transportation by means of carting could reach up to half the price of the delivered cereals. Carting was possible during short dry periods when the peasantry was not occupied in agricultural works, and these were the biggest disadvantages of carting. Thirdly, the absence of an infrastructure able to satisfy the growing needs of the agricultural producers could lead eventually to a profound economical crisis.




#Exhibit of the Month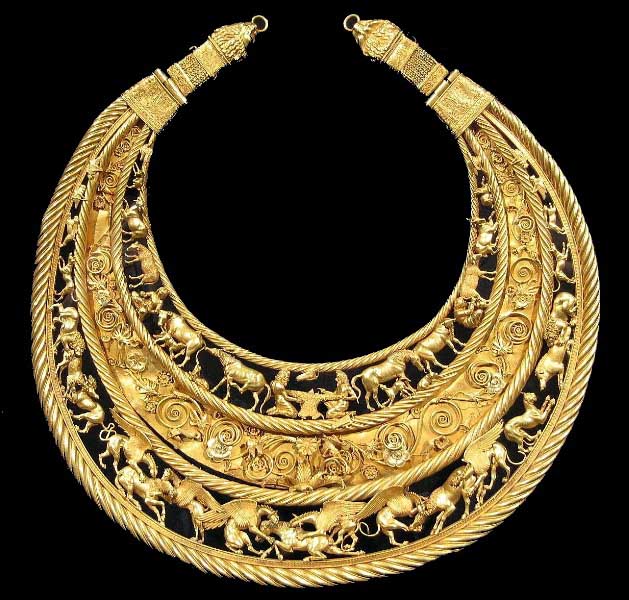 The pectoral from Tolstaya Mogila is considered the main archaeological treasure of Ukraine (it is depicted, for example, on the logo of the Institute of Archeology of the National Academy of Sciences of Ukraine). This unique artifact of 958 gold, weighing 1140 g, was discovered as a result of excavations of the Scythian burial mound of Tolstaya Mogila (Tovsta Mohyla) on June 21, 1971 near the modern city of Pokrov (then Ordzhonikidze) in the Dnepropetrovsk region. Following the excavations carried out by Boris Mozolevsky and Yevgeny Chernenko, it turned out that a mound with a height of 8.6 m and a diameter of 70 m was filled over the representatives of the Scythian elite around 350s-340s BC. The Tolstaya Mogila mound was the family tomb of the Scythian aristocracy, in which а male burial of а "king" and then, after a short period, of a "queen" with a child was performed. Then, some time after the funeral, the burial of the "king" was robbed, but the robbers, fortunately, did not notice jewelry (a sword in a scabbard, a whip) lying in the dromos at the entrance to the tomb, including the pectoral...
Read More >>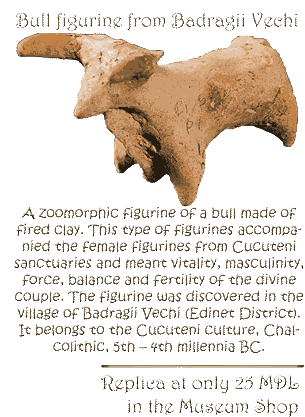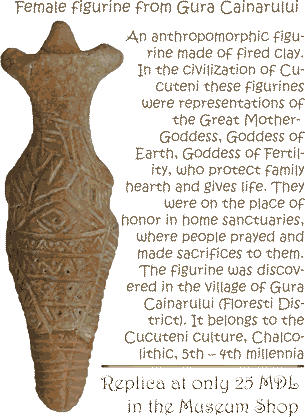 __________________________________________
©2006-2021
National Museum of History of Moldova
31 August 1989 St., 121 A, MD 2012, Chisinau, Republic of Moldova
Phones:

Secretariat:
+373 (22) 24-43-25
Department of Public Relations and Museum Education:
+373 (22) 24-04-26
Fax:
+373 (22) 24-43-69
E-mail:
office@nationalmuseum.md
Technical Support:
info@nationalmuseum.md

Web site administration and maintenance:
Andrei EMILCIUC