Virtual Tour
Наталья Бурдо

Traces of the ritual practice at a large Trypillian culture settlement near Maydanetske

Tyragetia, serie nouă, vol. VII [XXII], nr. 1, Arheologie. Istorie Antică
A settlement near the village of Maydanetske in the Talnovsky Region of Cherkasy Oblast is one of the most well- studied giant settlements of Trypillian Culture. Analysis of the materials accumulated in the course of research at Maydanetske reveals three levels of rituals, probably due to the structure of the ancient settlements, which are considered as centers of chiefdoms. The rituals of the first level are related to specific buildings-housings and economic systems (dwellings). The second level of the ritual activity brings together a group of dwellings, or certain parts of the settlement and related social structures (like the complex "M"). The third level acts as a whole - settlement (including the rite of its abandonment).

List of illustrations:

Fig. 1. Plan of Maydanetske mega-site: A - after magnetic prospection (V. Dudkin); B - part with excavated remains of dwellings.

Fig. 2. Building "M": 1 - part of the painted floor; 2 - plan of the second floor (1 - contours of remains; 2 - elevations; 3 - remains of podium; 4 - broken pots; 5 - millstone ); 3 - reconstruction of the second floor planning (1 - eleva- tions; 2 - podium; 3 - pottery; 4 - walls); 4 - reconstruction of the building "M"

Fig. 3. Finds from building "Ж" and decorated part of altar.

Fig. 4. Group of buildings "Ж": broken pottery under remains of a dwelling.

Fig. 5. Building "П": broken pottery and remains of a ceiling.

Fig. 6. Tokens and miniature dish from the sacred pit at building "Е".

Fig. 7. Figurines from Maydanetske: 1-3 - pit under dwelling "П"; 4 - pits from dwellings "П" and "У"; 5 - pit from dwelling "Е".

Наталья Бурдо
Spindle whorls of Trypillia-Cucuteni cultural unity

Tyragetia, serie nouă, vol. XIII [XXVIII], nr. 1, Arheologie. Istorie Antică
Михаил Видейко, Джон Чапмен, Наталья Бурдо, Биссерка Гейдарская, Стоилка Игнатова, Светлана Иванова, Виталий Рудь
Research project "Early urbanism in prehistoric Europe: the case of the Trypillian mega-sites" in 2013

Tyragetia, serie nouă, vol. VIII [XXIII], nr. 1, Arheologie. Istorie Antică
Михаил Видейко, Джон Чапмен, Биссерка Гейдарская, Наталья Бурдо, Эдуард Овчинников, Галина Пашкевич, Наталья Шевченко
Investigations of a mega-structure at the Trypillian culture settlement near Nebelivka in 2012

Tyragetia, serie nouă, vol. VII [XXII], nr. 1, Arheologie. Istorie Antică
Наталья Бурдо
Interpretation of the cultural layer of the early Trypillian site of Bernashevka I

Tyragetia, serie nouă, vol. XI [XXVI], nr. 1, Arheologie. Istorie Antică
Наталья Бурдо
Anthropomorphic figurines from early Bronze Age burial mounds in the Bug-Dnieper interfluves and the Dnieper area

Tyragetia, serie nouă, vol. XII [XXVII], nr. 1, Arheologie. Istorie Antică




#Exhibit of the Month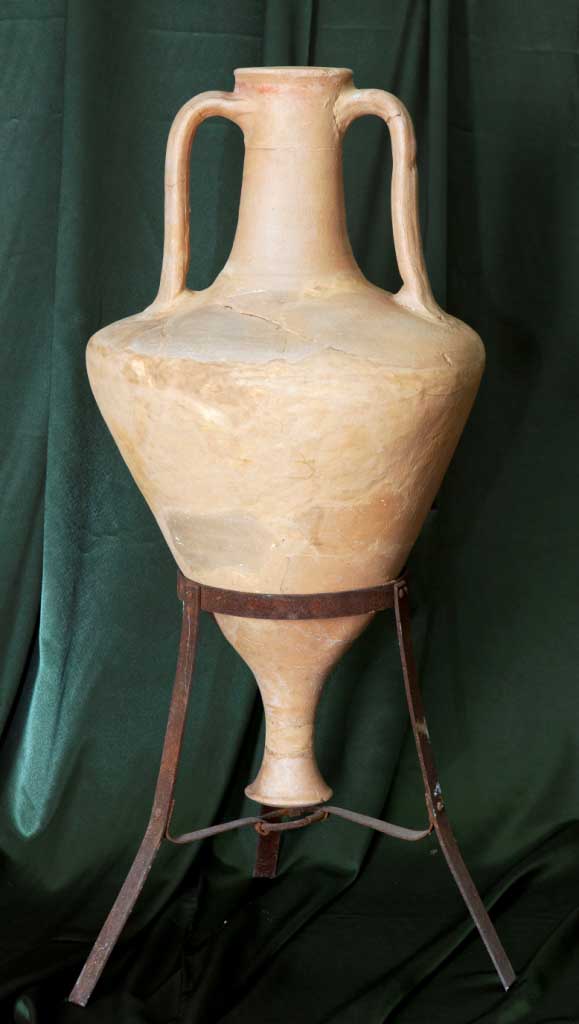 Amphoras are massive vessels originating from the ancient Greek world, executed on the potter's wheel, in which Greek merchants, in the process of their trade with other territories and peoples, transported, in particular, Greek wine, olive oil, salted olives, paints, nuts, etc. The shape of the Greek commercial amphora, in the opinion of some researchers, vaguely recalls the female figure, having, probably, at the beginning, a sacred character. Among the main features of the amphorae are well-thought-out metric proportions...
Read More >>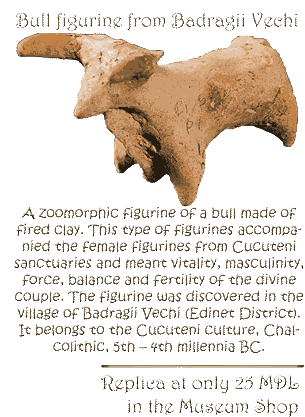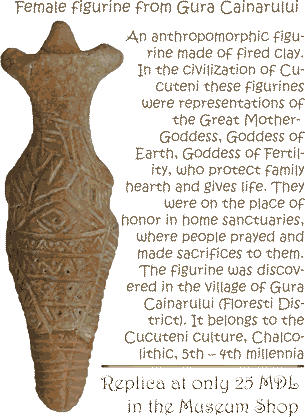 ©2006-2022
National Museum of History of Moldova
31 August 1989 St., 121 A, MD 2012, Chisinau, Republic of Moldova
Phones:

Secretariat:
+373 (22) 24-43-25
Department of Public Relations and Museum Education:
+373 (22) 24-04-26
Fax:
+373 (22) 24-43-69
E-mail:
office@nationalmuseum.md
Technical Support:
info@nationalmuseum.md

Web site administration and maintenance:
Andrei EMILCIUC