Virtual Tour
Valentin Tomuleț

Literate mazili and ruptași in Bessarabia in the first half of the 19th century

Tyragetia, serie nouă, vol. IX [XXIV], nr. 2, Istorie. Muzeologie Chișinău, 2015
Abstract

Based on previously unpublished archival sources the author considers two privileged categories of the population of Bessarabia mazili and ruptași, attempting to show that some of them were literate and enjoyed respect and authority among the lower strata of the population. The number of literate mazili and ruptași possible, although quite difficult to identify by examination of the numerous petitions, complaints and claims addressed to county, regional and imperial institutions, especially in cases when after the fiscal censuses (1824, 1835, 1850, 1858) some of them for some reasons have not been identified in the social class of mazili or in the fiscal class of ruptași. An other similar situation was attested after the entry into force of the Law of 10 March 1847, under which mazili and ruptași from Bessarabia were reclassified to the Russian social category of odnodvortsy. Those, who for various reasons were not included in the list of the privileged classes of Bessarabia, had over the years to present documents proving that they belong to privileged social or fiscal categories. In addition to official documents signed by former rulers of Moldavia and the decisions of Provisional Committee of Bessarabia, mazili and ruptași were required to present testimonies of 24 persons from the category of ruptași and mazili, who could confirm under oath that the petitioners belong to mazili, ruptași or odnodvortsy. It is remarkable that the signatures on the testimonies argue that many of these ruptași and mazili were literate or at least were able to basically read and write. The signatures on these documents were made using Romanian Cyrillic alphabet, which means that after 1812 mazili and ruptași were taught to read and write at home.


Valentin Tomuleț
The legal status of călărași in Bessarabia: from Moldovan traditions to the Russian imperial administrative system

Tyragetia, serie nouă, vol. VII [XXII], nr. 2, Istorie. Muzeologie
Valentin Tomuleț
The establishment and activity of Lancasterian schools in Bessarabia in the 1820s-1840s

Tyragetia, serie nouă, vol. VIII [XXIII], nr. 2, Istorie. Muzeologie
Valentin Tomuleț
The establishment of special administration of city Ismail and its role in the evolution of commercial bourgeoisie (1830-1853)

Tyragetia, serie nouă, vol. IV [XIX], nr. 2, Istorie. Muzeologie
Valentin Tomuleț
Maria Danilov, Cenzura sinodală și cartea religioasă în Basarabia. 1812-1918 (între tradiție și politica țaristă), Biblioteca Tyragetia XIII. – Chișinău, 2007 (Tipogr. "Bons Offi ces"), 264 p.

Tyragetia, serie nouă, vol. II [XVII], nr. 2, Istorie. Muzeologie
Valentin Tomuleț
Bessarabian bourgeoisie in modern age (Classification, characteristics, evolution)

Tyragetia, serie nouă, vol. VI [XXI], nr. 2, Istorie. Muzeologie



#Exhibit of the Month
This year we commemorate 350 years since the birth and 300 years since the death of Dimitrie Cantemir (October 26, 1673 - August 21, 1723), the most famous Romanian humanist thinker and also the author of the first original Romanian philosophical works.Dimitrie Cantemir represents one of the highest peaks of thought of his time, in all areas that his genius touched - in historiography, geography, philosophy, he opened up new perspectives for development...
Read More >>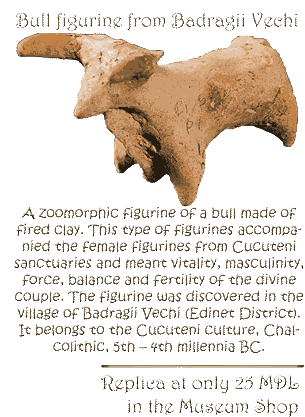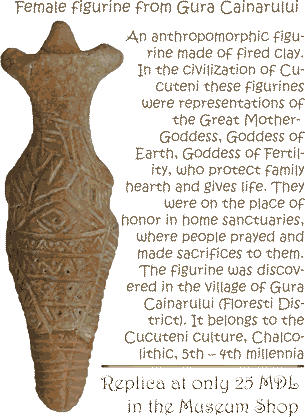 ©2006-2023
National Museum of History of Moldova
31 August 1989 St., 121 A, MD 2012, Chisinau, Republic of Moldova
Phones:

Secretariat:
+373 (22) 24-43-25
Department of Public Relations and Museum Education:
+373 (22) 24-04-26
Fax:
+373 (22) 24-43-69
E-mail:
office@nationalmuseum.md
Technical Support:
info@nationalmuseum.md

Web site administration and maintenance:
Andrei EMILCIUC